Save up to 40% in 1 minute
Lean To Conservatory
Want to get the most important information you need about getting a lean to conservatory? Looking for prices isn't always easy, which is why we include them here. Find out here whether they are the right choice for you or not, and how you could save on this big purchase!
How much does a lean to conservatory cost?
Are you thinking about getting a conservatory but don't want to pay too much? You're in luck! A lean to conservatory might be for you, but first, you need to know exactly where lean to conservatory prices fall in relation to other conservatories.
For a comprehensive comparison of all of the conservatory types and their related costs visit our conservatory prices article.
Here is a breakdown of the average cost of lean to conservatories:
Lean-to Conservatory Cost



Dwarf wall new build
£5,000 - £10,500
Fully glazed new build
£7,000 - £9,000
Refurbishment
£4,500 - £6,250
Depending on what kind of lean to conservatory you choose, there may be some extra costs involved. These can range from foundation work to building a "dwarf wall." This is necessary in case you don't want your structure to be completely glazed. Here are some extra lean to conservatory costs that you may encounter depending on your requirements:
Extra Conservatory Costs

Work needed

Approximate cost per square metre

Concrete Base
£95
Cavity Brickwork
£125
Build-up surcharge
£15
Single Skin Brickwork
£90
Get the best price for a lean to conservatory in your inbox
Wouldn't you be annoyed if you wasted money on unnecessary add-ons for your home improvement project, and found out after the fact? Yeah, same here. It's super easy to avoid unnaturally high prices when you compare lean to conservatory quotes here. Receiving up to 4 quotes within 2 days, you will have the best information to find the right lean to conservatory for your home.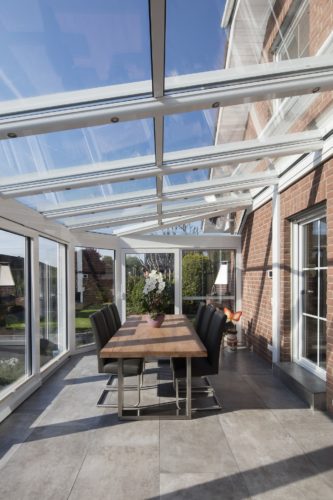 What is a lean to conservatory?
Lean to conservatories are the cheapest option when it comes to external glazed structures – also known as conservatories! Here are their key characteristics:
They are constructed in such a way that they look as if they are "leaning" against the house, which is where their name comes from. Rainwater falls from the back of the conservatory away from the house. They are smaller than other conservatory styles generally speaking, and usually share two walls with the house rather than standing further apart and having three free walls.
Lean to conservatories come in a wide variety of materials, configurations and can have many different add-ons if you're not happy with the bare minimum. You can choose to have a dwarf wall, depending on if you think the structure needs more stability. This may require planning permission so do check beforehand. There are also plenty of glazing options to choose from, ensuring you make the right decision for your home.
This is a huge advantage over other types of conservatories. You can order them to be delivered and build them yourself! Not only is this a ton cheaper than having someone else do it for you, you will also gain much more satisfaction out of a space you poured effort into. Some basic tools and expertise are needed. You can easily find the information you need in the DIY kit you receive or go online.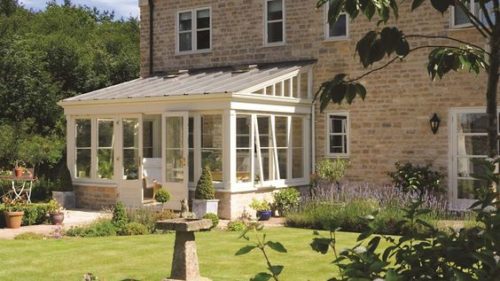 How can you build a lean to conservatory?
How can you build your own lean to conservatory? Here are some steps to follow that will help you out:
Buy a kit online that explains everything
There are various places on and offline that sell DIY lean to conservatory kits, so you can find the perfect one for you. This will require some preparation including assessing your current situation, measuring the area it will be installed on, and doing some preparatory groundwork. Normally the kit you receive will have extensive instructions. Make sure you know exactly what you're getting well in advance and that the company you're working with has a customer support service in case you get stuck.
This goes without saying, but it's worth mentioning. Building your own lean to conservatory will require some DIY skills and if you don't have any, some research and preparation are needed. Research what health and security measures you will have to use in order to keep you and your family safe while you build your conservatory.
Check to see if you need planning permission
When you're looking into getting a new conservatory, you may be asking yourself: Will my lean to conservatory need planning permission? See the mini guide on whether you need planning permission or not here.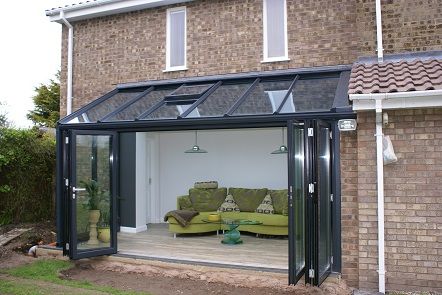 Which lean to conservatory roof should you choose?
If you're looking for cheap, you want to choose polycarbonate. Glass is a nice option but it isn't easy to clean, it's fragile and noisy. Solid roofs are the more expensive option but insulate better than all the others in terms of noise and heat.
For a comprehensive guide on conservatory roofs, see our dedicated article on the subject here.
Find local lean to conservatory provider to save up to 40%!
At the end of the day, the most accurate information available lies in the expertise and experience of local tradesmen. Get up to 4 quotes from local conservatory providers, so you can decide which specifications are right for you. They will help you to find the perfect conservatory for you. Plus, by comparing you could save up to 40% as our other customers did! Click here to get started for free.