Save up to 40% in 1 minute
Bathroom Windows
It's not every day that we replace windows in our home, let alone bathroom windows! When it comes to making the right decision, many people are left feeling confused because the process and factors at play are not commonplace. This is why we provide information and advice here so you can make the right decision for your home.
How much do bathroom windows cost?
As a general rule, bathroom windows cost about the same to install as windows in other rooms of the house, though there can be extra costs incurred. In the following tables, you can see average prices for different styles and materials windows are available in. Below, we discuss the potential extra costs of having windows installed in a bathroom.
Casement Window Prices (incl. installation costs + VAT):

Window material
Window size (mm)
Price range
uPVC
1000 x 500
£200 – £375
1000 x 1000
£300 – £700
1200 x 1200
£350 – £900
Wooden
600 x 900
£600 – £970
300 x 1200
£1,250 – £1,400
1200 x 1200
£1,370 – £1,500
Aluminium
600 x 900
£540 – £680
900 x 1200
£650 – £800
1200 x 1200
£770 – £960
Individual uPVC Window Prices (incl. VAT)

Dimensions
(mm)
Casement uPVC Window
Sash uPVC Window
600 x 900
£290
£580
1200 x 1200
£375
£720
1200 x 1800
£540
£935
Bathroom windows could actually cost a lot less than the prices quoted here – since they are generally smaller in size. You could pay as little as £150 for a single bathroom window!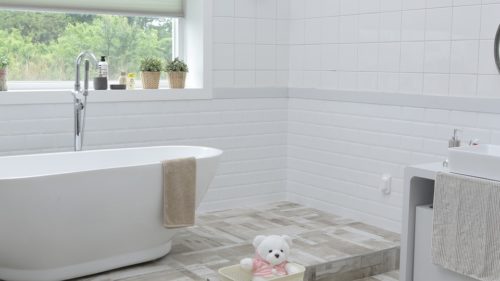 However, you may pay extra to get a frosted window or a special opaque design. It won't break the bank, however. You can expect to pay a modest £10-£30 to apply frosting film or a different patterned film to your bathroom windows.
There are companies that provide these upon request along with the purchase of bathroom windows. Check with your window provider first to see if they can give you frosted windows at a discounted price.
Save up to 40% on your new bathroom windows
Are you remodeling your bathroom and want to know how much to budget for bathroom windows? Getting accurate prices online is near-impossible. This is because there are so many personalised factors that go into the price of a new window, wherever it's situated. To know how much money to put away for a new bathroom window, you'll need lots of quotes from local window providers. Get up to 4 for free by clicking here, and compare them. Our obligation-free process has saved customers up to 40% on their new bathroom windows!
What makes bathroom windows special?
What specific bathroom window characteristics should you consider when remodeling? Here we will outline each one, namely size, condensation, warmth, and privacy.
Generally speaking, bathroom windows are smaller than windows in other areas of the home. This is because the bigger they are, the higher the heat loss and loss of privacy. Bathrooms are best kept cozy so here choosing a smaller size could be preferable. However, this does not have to be the case. You could cover the bottom half of the opening, invest in some nice curtains or frost the entire thing, eliminating privacy issues but also any potential views.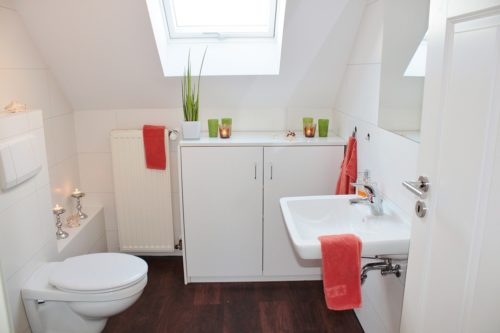 Bathroom windows are the biggest sufferers of condensation in the home. The one exception to this is the kitchen, depending on how much of a cook you are! Condensation can damage wooden windows in particular. We don't always think of treating the interior of the frame to withstand temperature and moisture fluctuations though in this case, it is necessary. You can also mitigate the condensation issues by having an extractor fan installed or by being very diligent with opening the window after showering. Tilt and turn windows are especially well-suited to this use since they can be fully opened to let the steam out and then opened slightly for a longer period since security issues are less of a concern.
Having a nice and cozy bathroom can seem like a bit of a luxury but it doesn't have to be! An electric towel-rack is a temporary solution to the cold but there are more permanent options, too. When you remodel your bathroom you can choose a window that doesn't leak heat to the outdoors or transfer cold air into the room. These windows are especially well-insulated and you could even get them triple glazed. These are more expensive than double glazed but if your bathroom window isn't very big it could be affordable for you. This will help you to stay cozy and warm throughout the winter mornings!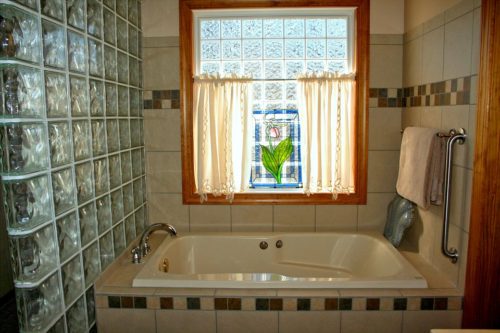 The last thing you want when you're stepping out of the bath is to have to worry about if anyone outdoors is taking a little peek. All of us have thought about this from time to time. So, how do you obscure bathroom windows? You can do this by purchasing frosting film or installing curtains or interior shutters. Curtains can be thin but also help with privacy – letting light in but also giving you peace of mind. For more information on how to make bathroom windows private, you can visit this helpful article!
Finding bathroom windows for sale, the easy way
Replacing windows isn't something we do every day and it can be an expensive project to undertake. This is why so many people end up feeling overwhelmed and confused because there is a lot to know and a lot at stake. Informing yourself is key to reducing these negative feelings, so gather as many quotes as you can from trustworthy window salesmen. We make this easy by providing our easy, obligation-free quote request process. Compare quotes easily and make this decision faster, with more peace of mind!