Save up to 40% in 1 minute
Replacement Windows
Finding the right solution for the worn-out windows in your home isn't always a breeze! When your window frames are holding together, getting a set of replacement windows is often a cheaper and easier option than getting new windows. Here you can learn whether replacement windows are the perfect fit for your home!
How much will it cost you?
An important factor in deciding whether or not to replace your windows is the costs. The exact costs of your replacement windows will depend on a fair few factors, including style, material, size and installation.
Generally, you will find two window style options to choose from: sash windows and casement windows. Each window style has its own set of benefits and different price ranges.
Below you can see the average cost of various window styles and materials. The prices are calculated according to one individual window and include VAT and installation.
| Casement Window | Average cost per window including materials, installation and VAT |
| --- | --- |
| uPVC Casement Window | £400 - £495 |
| Wooden Casement Window | £700 - £850 |
| Aluminium Casement Window | £750 - £950 |
| Sash Window | Average cost per window including materials, installation and VAT |
| uPVC Sash Window | £700 - £950 |
| Wooden Sash Window | £1,100 - £1,500 |
| Aluminium Sash Window | £1,200 - £1,500 |
For instance, you have four single pane wooden casement windows to replace to improve the comfort and energy consumption of your house.
If your home leans more towards the traditional style, you can decide to maintain the aesthetics of your period home by choosing a set of wooden replacement windows for an average total cost of £3,000.
Alternatively, you can save money and choose the cheaper uPVC replacement windows that have an average total cost of £1,800. These estimates are based on the size of an average window and installation costs of various window companies. Real costs vary greatly.
Find out your actual costs quickly & easily
Sick of answering the same questions over and over to get quotes? No problem! Here, we do the hard work for you.
Fill out our form in 2 minutes and receive obligation and cost-free quotes from trustworthy local professionals within 2 working days. This way, you will find the best price for your replacement windows. Get cost and obligation-free quotations from up to 4 different companies to help you make this important decision.
What are replacement windows?
Replacement windows can mean one of two things:
This is what most people think of when we talk about replacement windows. It involves taking out the entire old window and replacing it with a new one.
It is more expensive than partially replaced windows but depending on your needs, it may be necessary. If your frame is damaged or you want a new window style, this is the kind of window replacement you need.
Partial window replacement
These replacement windows are installed within the existing window frame, unlike a new construction window. This saves the installer the time and effort of having to remove any exterior materials like the sash and frame of the window, as well as saving money.
With replacement windows, you get the same energy saving benefits despite only paying around 50% of the costs of a set of new construction windows! However, if the window frame is either damaged by rot or mould or out of square, then a full-frame replacement will be your best available option.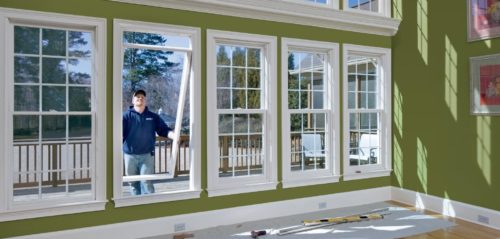 How do I know if my windows need replacing?
It can be tricky to know whether you need a full or partial window replacement. Sometimes, even a quick repair can see you through until you go through with a full replacement. Below, find some advice on what to do if you have some common window problems.
Problem

Possible solutions
When you need to replace
My window won't open fully or properly
Casement windows: Look into buying replacement parts such as the sash support system or the window operator (handle mechanism). Sometimes the moving parts just need cleaning or lubricating.

Sash windows: If the window has swollen due to heat you can sand or plane the wood panes down to make them slide more easily.

If you can't work out what the problem is easily, get expert advice.

Your windows may be irreparably damaged.
My window lets in a chilly draught

Install a draught excluder or replace a faulty one.

If you see small cracks, fill them with nail polish.

These are temporary solutions only - draughts will get worse over time without a permanent solution like pane or full window replacement.
The latches on my window are broken, making me feel unsafe

Buy replacements online and install them yourself or ask a handyman.
If it's not a simple latch problem and your windows do not seem secure or easily reparable to you - replace them.
The glass in my window is foggy

If you are able to remove your window sash, take it to a hardware shop to have the glass or insulated seal replaced.
Usually only the pane needs replacing in faulty double glazing - contact an expert if you're unsure.
The outside window sill is rotten

The sill can be replaced by itself if the rot has not spread - cut back the rotten wood and replace it with new wood that you can measure from your original cut.
If the rot has spread to the frame you're in for a window replacement.
One or more panes of glass are broken

You can remove the glass yourself but always wear extensive protective gear and tape the glass to remove it safely.

Glass replacement is cheaper than window replacement

Pane replacement needs professional expertise - a handyman may do, but call a window expert when in doubt,
How can replacement windows benefit me?
Your windows are a key element to making you feel happy and relaxed in your home. Old windows can come with many drawbacks like draughts, mould and condensation. Replacing them is a quick way to get rid of these unsightly conditions that time brings.
This decision will not only have a positive effect on your energy bill but also on the lighting, ventilation, warmth and look of your house. You will not have to deal with the chill of draughts or suffer from unwanted outside noise.
Getting your windows replaced will instantly add a great deal of comfort to your home. Plus, the 10-15 year guarantee offered by most window companies ensures that you will benefit from your new windows for years to come.
After deciding on replacement windows, the next thing to consider is the frame material. Not only does this greatly affect the costs, each material has different characteristics that could make them ideally suited for your home.
The following table shows the benefits and drawbacks of the three main window materials, namely uPVC, wood and aluminium.
| Material | Benefits | Drawbacks |
| --- | --- | --- |
| uPVC | Durable, rigid, low-maintenance, good insulation | Can degrade in high temperatures |
| Wooden | Aesthetically pleasing | Needs regular maintenance |
| Aluminium | Low maintenance, large size | Transfers heat (without thermal break) |

Supply only: install your windows yourself
Are you comfortable with replacing the window by yourself? In that case, it might be interesting to explore the possibilities of supply only. You will definitely save on installation costs.
Doing it yourself avoids labour costs, but be very careful! Replacing your windows is not an everyday job and when done improperly you might end up paying a lot more for repairs.
After installation, it is good to check for draughts. You can do this by holding a candle up to the seams and seeing if it flickers. Another important thing to think about when replacing your windows (whether by yourself or with the help of a professional) is whether or not you need an application to do the work or not.

Save up to 40% on your replacement windows!
At Getawindow.co.uk we understand that you are looking for the best available price out there. Replacing your windows is cheaper than getting entirely new windows. You don't want to pay more than necessary. Finding the best deal can be a difficult and time-consuming effort.
This is why are here to do the hard work for you! Take a minute to fill out our quote request form. This is a surefire way to find out how much you can save on replacement windows. Differences between window companies can be as much as 40%! Within 2 working days, you will compare multiple no-obligation quotes from up to 4 qualified specialists, completely free of charge.