Save up to 40% in 1 minute
Georgian Windows
Are you looking to update the exterior of your home in keeping with its traditional character while retaining energy-saving benefits? Georgian windows could be your ideal choice! Their classic look is ubiquitous in gorgeous period homes, and adds refinement to any household. Read on to find out more about this window style.
How much are Georgian windows?
You could pay anywhere between £400 and £700 per Georgian window. This is, however, very difficult to estimate. While choosing the Georgian window style may cost you extra, it is impossible to say how much more, since the price you pay for windows depends more on other factors. These include the materials used, the other style choices you make, the number of openings the window has and its size.
Since the price depends more on other factors, in the following table you will find guide prices for window materials in different styles so you can determine which would be in the right range for you.
Casement Windows vs Sash Windows (incl. installation + VAT)

Material / Window Type
Casement
Sash
uPVC
£150 - £900
£730 - £1,100
Wooden
£700 - £1,500

£1,100 - £1,900
Aluminium
£540 - £960
£1,200 - £1,500
The best way to save money on Georgian windows
Georgian windows are gorgeous and timeless, but are they affordable? That's down to you, and your research skills! Comparing local professionals ensure you get the best price for your new windows. Get up to 4 quotes when you take a minute to complete this form. Our customers have saved up to 40% on their home improvement projects, and by comparing you will reap the same benefits.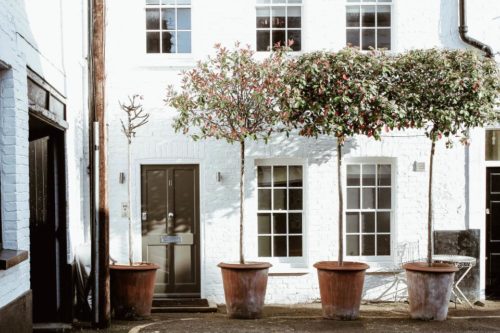 What are Georgian style windows?
The Georgian windows design is a remnant from one of the most revered periods in architectural history, spanning from 1730 to 1830, influencing much of the residential architecture at the time. The style is fairly classical.
Georgian style windows generally follow the pattern of "six over six", meaning that six panes sit on top of another six in each window. Each pane is separated by a "Georgian bar", or a metal bar. This was an extremely practical method of constructing windows hundreds of years ago, but nowadays Georgian windows contain either one or two panes of glass, on top of which are placed the ornamental bars.
You can also purchase double glazed Georgian bar windows that have a "spacing" bar between the glazing, producing a look that is much closer to the authentic thing and provides a traditional look for otherwise modern homes.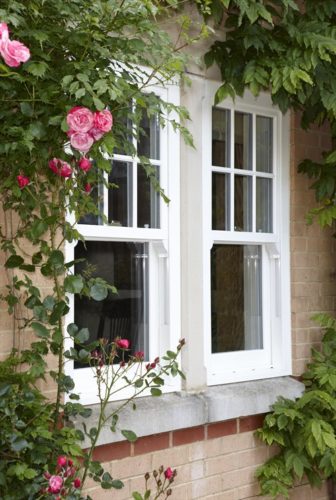 Traditionally, Georgian windows were made from wood, though nowadays uPVC Georgian windows are attractive and can look fairly authentic. This alternative is great for those who don't want the hassle of maintaining wooden windows. Find more about uPVC windows' benefits by reading our article here.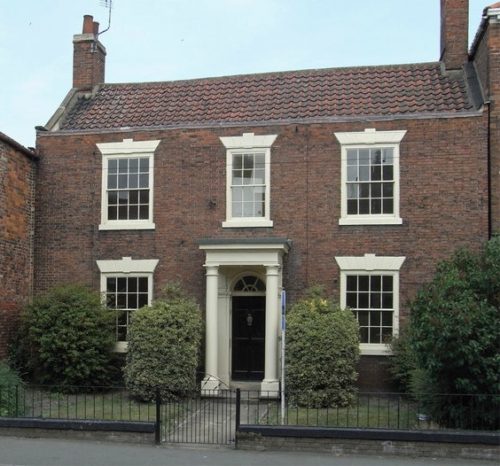 Benefits of Georgian windows:
Georgian architecture is so breathtakingly beautiful that it is something to consider as you redo your home. Georgian bar windows are a way to hark back to these stunning structures without installing columns or balconies. They offer the timeless appeal of Georgian architecture, enhancing the exterior of period homes while adding a sense of tradition and style to modern homes.
Not only for classic properties!
Yes, you can have Georgian bar windows too! They are not exclusively reserved for those living in period homes or restoration areas. Plus, you can get them in uPVC too. Some purists reject this material outright. However! Quality uPVC windows will last a long time, insulate your home well, are low-maintenance and look very classy.
Most home improvement enthusiasts have dreamed of the blue or green shutters we see on stone-built French farmhouses. They also work extremely well with Georgian bar windows. They are especially well-suited to indoor shutters which often allow for great flexibility in terms of privacy and lighting. Plus, you don't need to worry about re-finishing and painting them as often as exterior shutters!
Get competitive Georgian window quotes today
Before you decide what kind of windows you want, compare professionals providing Georgian windows. This way you can find out if they would fit into your budget. It also pays to compare professionals offering their services near you. Do this by entering some information into our e-form, and look through personalised quotes to find your perfect price. You will be under no obligation to buy and will reap all the rewards, and none of the disadvantages.