Save up to 40% in 1 minute
Bay Windows
An influx of natural light, an addition of versatile living space, and the curb appeal to last a lifetime. Sounds like music to your ears doesn't it? Continue below to read more about the benefits and pricing structures of bay windows.
What are the costs of installing bay windows?
One large appeal of installing bay windows in your home is the ability for customisation based on many factors. This includes the material of the window frame, size of glass and number of panes, just to name a few. Each of these factors can influence the final price of the job. Here we have a general pricing overview for the most popular materials and number of panels including VAT and installation costs so you can determine the best fit for your home:
Bay Window Prices (incl. installation + VAT)

3 Panels
4 Panels
5 Panels
White uPVC
£1,050 – £1,350
£1,400 – £1,700
£1,850 – £2,200
Woodgrain
uPVC
£1,150 – £1,475
£1,525 – £1,900
£1,900 – £2,700
If you are looking to install double-glazed 5-panel bay windows, it will cost anywhere from £1,300 to £2,700 depending on the size of your home, excluding labour costs.
If you would like to install 3 bay window units throughout your house with 5 panels each, double glazed, the cost will range anywhere from £4,000 to £8,000, again depending on the size and quality of the windows.
Compare quotes now to get the best price
Installing bay windows can come with significant labour and material costs. This is why comparing prices is essential to get the best deal for your home improvement. Through our easy online form you can request up to 4 quotes for free and with no obligation whatsoever. These quotes will arrive in under two working days and will enable you to save up to 40% on the cost of your windows. Don't waste money when you don't need to, save it to decorate your new space! Compare quotes for new bay windows and save your hard earned money.
What exactly are bay windows?
Bay windows are an elegant Victorian-style window model designed to enhance space, viewpoints, and light emission in your home. They are visually appealing and come in a variety of sizes and decorative finishes. Bay windows also offer the advantage of high-class aesthetic appeal while remaining durable and low-maintenance for all climates and weather conditions. These types of windows are easily differentiated from bow windows by their increased angle ratio. They tend to stick out further than bow windows which have smaller angles between the sashes.

5 fantastic benefits of bay windows
By now, you understand how these beautiful windows can positively impact a home visually and spatially. However, the benefits go far beyond that. Bay windows will undoubtedly benefit you, your home and your family. Below are 5 undeniable reasons why investing in bay windows is the right move for you:
Natural Light: It should be no secret that a huge advantage of bay windows is the influx of natural light into your home. This light brings beauty but also health benefits – natural light kills harmful bacteria inside your home.
Elegance and Class: Bay windows are strongly associated with elegance & class, making any type of living space visually stand out with the increased depth and overall intrigue. Bay windows are a great way to achieve natural curb appeal.
Airflow and Ventilation: With bay windows, two or more window openings rather than the traditional one contribute to enhanced airflow circulation in your home. Your family will enjoy a healthier environment.
Durable: While widely known as a classy addition to your home, bay windows are also extremely durable. They are designed to withstand all climates and weather conditions. An extremely low-maintenance, beautiful addition to your home!
Additional Space: The extra square footage provided by bay windows can be used in a variety of unique ways. They can form comfy interior seating, shelf space, or additional storage as we will see below. More window space also makes the room appear larger, while also enhancing the outside view from inside.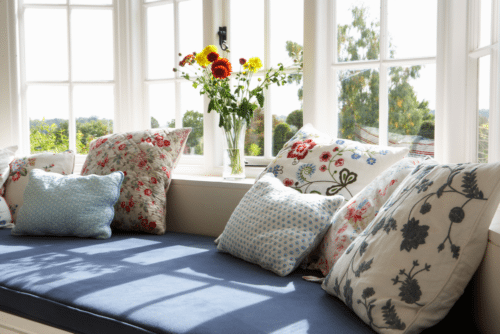 Bay windows: spoiled for choice!
What makes bay windows profoundly unique compared to other window designs is the complete ability to customize from the number of windows to the angle at which the windows are installed and everything in-between! Your bay windows truly are what you make of them, and that is a beautiful thing.
After you've decided what kind of framing material you prefer, the window glass that best suits, the number of panels, how they will open and in what direction… You may be ready to stop making decisions, but this is where the fun begins! There are so many ways to customise your bay windows. Here are a few of our favorites:
Make a bench with secret storage spaces beneath it for toys, books, cushions or anything, really!
Install bookcases beside your bow window to turn it into a cozy and light-filled reading nook, with easy to reach entertainment material.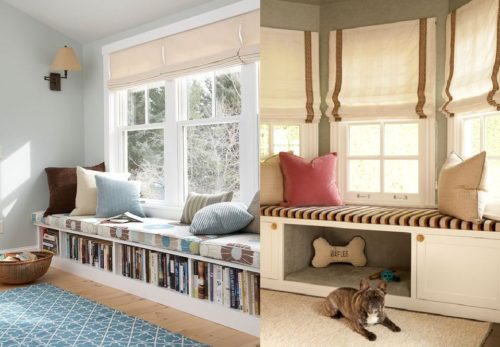 The underside can also be turned into a custom dog or cat bed so your pet can relax right alongside you.
Turn your space into a breakfast counter-top with high chairs. This is perfect for saving space and enjoying the sun while you savor that first cup of coffee.
Replace your soft cushions or sofa with a swing-chair or hammock in the summertime. Soak up the rays from inside your home!

Save up to 40% on your new bay windows!
Are you interested in enhancing your home with bay windows and ready to take the next step? Or are you simply looking for more information? You are in the right place. Consult the advice of licensed professionals in your area who can provide you with a free, no obligation quote. Simply complete this quick form and within 2 working days you will receive up to 4 estimates from trusted companies nearby. Evaluate the quotes and make the best decision for you in order to make your vision a reality!