Save up to 40% in 1 minute
House Windows
Sometimes we don't notice progressive deterioration before it's too late. One day you take a good look at your house windows and realise that they are looking worn and very sorry for themselves. Do they need replacing? How much will it cost? Is condensation a really bad sign? Find out by reading on…
How much do house windows cost?
For domestic uses, windows can cost anywhere from £150 to £900 depending on the size, style, material and installation costs involved. A single window costs on average £400. The most common material that house windows are made of is uPVC, and is also the cheapest.
For some more examples of how much you could expect to pay for uPVC windows according to house type and number of windows, you can see our helpful table below.
Cost of uPVC Windows (materials + installation)

Type of home
Number of Bedrooms
Windows needed
Expected cost of Casement style uPVC Windows
Expected cost of Sash style uPVC Windows
Flat
2
4 windows
£1,450 - £1,700
£2,400 - £3,200
Terraced
2
5 windows
£1,800 - £2,250
£3,000 - £4,350
Semi-detached
2
7 windows
£2,500 - £2,800
£3,700 - £5,200
Semi-detached
3
9 windows
£3,200 - £3,500
£4,400 - £6,600
Detached
3
12 windows
£4,200 - £4,700
£6,200 - £7,550
Detached
4
15 windows
£5,300 - £5,800
£7,200 - £9,400
You can also read more articles to find out about uPVC windows, window styles and window glass. All of these affect the price differently so be sure to check them out to inform yourself! Wooden windows and aluminium windows are more expensive, and you can find out more about them by reading our articles on the subject.
However, it is important to know what factors influence the final price of your window. For a comprehensive guide on window prices, you can see our dedicated window prices article. You will find all of the information you need categorised according to size, material, style and glazing. It is important to know that actual prices can vary a lot since window companies can set their own prices.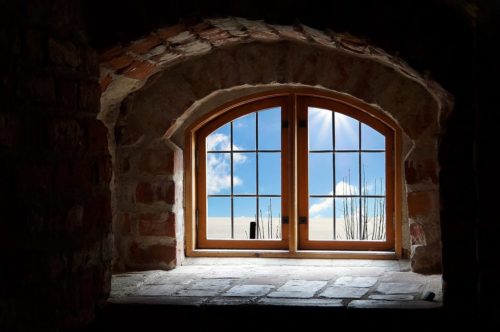 How can you save money on house windows?
Making a purchase without doing research about what you can expect in terms of service and price is a surefire way to pay more than you need. Don't miss out on the best price! Take your time and compare lots of local house window companies before you decide. By entering some information via our portal, you can do just that. Get up to 4 quotes from trusted professionals and compare these with no obligation. Customers have saved up to 40%, and so could you!
When should you replace house windows?
It can be tricky to know when your house windows need replacing. However, here is a helpful table to show you what you can do for specific window problems if you don't want to replace them. If the problems can't be resolved through these means, you probably need to replace them!
Problem

Possible solutions
My window won't open fully or properly
Casement windows: Look into buying replacement parts such as the sash support system or the window operator (handle mechanism). Sometimes the moving parts just need cleaning or lubricating.

Sash windows: If the window has swollen due to heat you can sand or plane the wood panes down to make them slide more easily

My window lets in a chilly draught

Install a draught excluder or replace a faulty one

If you see small cracks, fill them with nail polish

The latches on my window are broken, making me feel unsafe

Buy replacements online and install them yourself or ask a handyman
The glass in my window is foggy

If you are able to remove your window sash, take it to a hardware shop to have the glass or insulated seal replaced
The outside window sill is rotten

The sill can be replaced by itself if the rot has not spread - cut back the rotten wood and replace it with new wood that you can measure from your original cut
One or more panes of glass are broken

You can remove the glass yourself but always wear extensive protective gear and tape the glass to remove it safely

Glass replacement is cheaper than window replacement

For inspiration on different kinds of windows to brighten up your world, this is a wonderful resource we like to use!
How to install house windows?
Doing home improvement projects DIY style is all the rage these days, and for good reason! You save considerable amounts of money in labor costs and potentially in materials too when you find a good supplier. However there are also significant risks involved with doing home improvement ourselves, and this also applies to windows. They can be easily damaged by a lack of expertise and proper knowledge. While it is possible to install your own house windows, proceed with caution!
For a guide on how you can do this (specifically with relation to uPVC or plastic windows), you can read our article about plastic windows. This short explanation will show you how it's done, though we recommend doing a lot more research if you're serious about installing your own windows.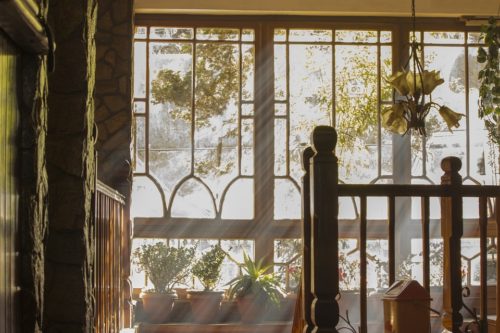 Why is there condensation or fogging on your windows?
Condensation forms when warm damp air meets cooler, drier air. A good example of this is a shower in the bathroom. The difference in temperature makes the warm water in the air condense into liquid on the cold surface. The same thing happens with house windows – if it is warm and humid inside the room, the moisture can condense on a cold window pane.
How can you prevent your house windows from fogging up?
Normally this is avoided by having double glazing, preventing the interior pane of glass from becoming too cold. However with old or damaged windows, the gas between the two panes can leak, allowing cold air in from the outside. This can cause condensation to form (especially in bedrooms at night) on the interior of your window.
Condensation forming on the inside of the window can be avoided by ventilating your room well, avoiding interior humidity. With condensation between the double glazing, you should think of replacing your windows.
Explore your options and talk to professionals
Information about windows can be difficult to find online, and big national companies can sometimes pressure customers into a sale. However local companies will understand your requirements and worries better than most, and will give you the best information for your situation. Gain peace of mind and arm yourself with knowledge by submitting some information to our obligation-free online form. This way you will compare quotes from trusted local providers, up to 4 in your inbox within a couple of days!