Save up to 40% in 1 minute
Window Styles
Making the right choice between casement, sash, slide, fixed and other variations of window style means having the right information at your fingertips. Do you want to know about the various window styles, how much they cost, and the benefits of each? If so, you are in exactly the right place.
How much does each style cost?
Here we will outline the costs of the five most popular window styles in the UK. We also briefly explain the most important characteristics of each one. Below we explain the characteristics of each style more in detail. We then provide a helpful table with the pros and cons of the window styles available.
Casement windows
One of the favorite British window styles of the past couple of centuries has been the open-out casement window. These are still the most common style to find in the UK. The bigger sizes tend to cost the least in relative terms. If you buy standard sizes you will significantly reduce your costs. You can also find open-in casement windows if the open window to the outside would obstruct a path.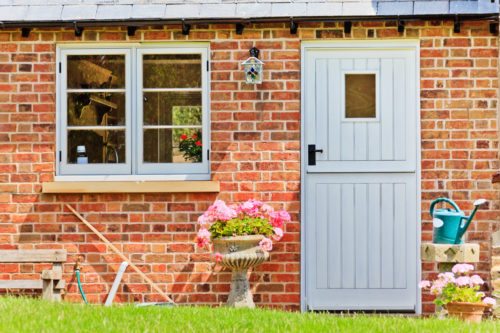 Expected cost: To get a uPVC casement window installed in your home, you can expect to pay between £200 and £900 per window, depending on installation costs, size and specifications. For more details see our dedicated casement window article.
Tilt & turn windows
Extremely popular throughout continental Europe, tilt and turn windows are practical choices that fit modern window styles very well. Since they are usually bespoke, the costs are slightly higher than casement windows.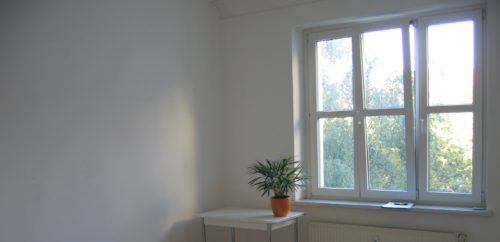 Expected cost: For white uPVC tilt & turn windows you will pay anywhere between £240 and £550 for supply only. Installation costs will cost you extra, and prices can vary based on your needs.
Sash windows
Sash windows come in many shapes and sizes. You can choose between horizontal and vertical sliders and double or single hung sash windows, each with their own advantages and disadvantages that we elaborate on below.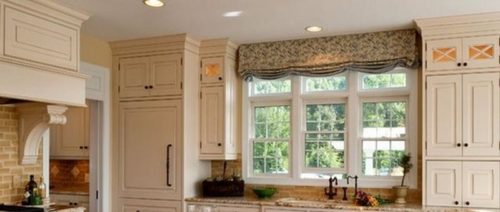 Expected costs: Sash windows can cost you anywhere from £480 to £1,000 per window for installation plus materials, and getting this style throughout a 4 bedroom house would cost between £14,000 and £18,000. See our sash windows article for more details.
Bay & bow windows
Bay and bow windows add space, light and depth to your home, enabling you to add more storage, create a cozy nook or increase the elegant outward appearance of your home. You can also choose how they open (casement or sash).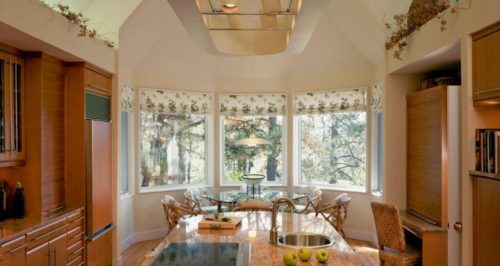 Expected costs: The price of bay windows depends on the number of panels and material used, but you will generally pay over £1,000 and up to £2,300 excluding labour costs. For more information on costs, check our dedicated bay windows article.
Fixed windows
Primarily meant for decoration and light, fixed windows come in many different shapes and sizes but do not have an opening mechanism. They are perfectly suited to spaces that would benefit from more light but are hard to reach.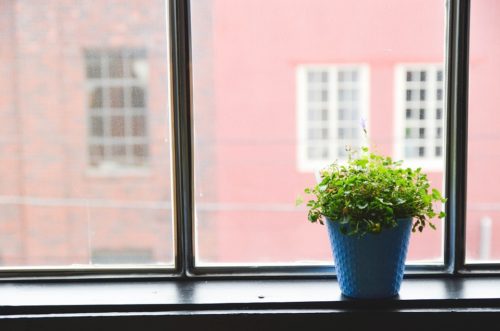 Expected costs: For a fixed uPVC window, you will pay £150 – £275 per window for a white finish, and between £175 – £300 for a woodgrain finish.
Save money by comparing prices
Window style is one of many factors that can determine the price you pay for windows, and the actual costs can also vary according to the labour rates set by your window provider. For this reason, when you have chosen which style best suits your needs, it is best to get multiple quotes from local providers to make the right choice for your home. When you enter your information through our secure portal, you will receive quotes from up to 4 local and certified window providers. These free and no-obligation quotes will help you to save money and time when shopping around for new windows.
What is the difference between these window styles?
You may have to choose a certain style over others to make sure the look of your house is consistent, but there is a fair amount of variation available within each window style. Here we will outline the main elements that constitute each style.
Casement windows
Casement windows are made up of one or more sashes that open on a hinge either from the sides, the top or the bottom of the frame. Here we show you what each type of casement window looks like and some of their main features.
Side hung

This kind of casement window is the most common in the UK. You can choose to have them open to the inside or the outside. This will depend on if there are any obstructions on either side. They let in a lot of light and air and are well suited to second floors. On superior levels, they can open without getting in the way of anything.
Top light

These windows have a fixed bottom pane with a narrow top hinged sash above. This allows for ventilation whilst being secure against little ones or animals falling out, and against intruders.
Sliding folding

In this configuration the sash folds in the middle. This enables you can get all of the light and ventilation without the sash hanging so far into your house that it gets in the way.
Top hung / Awning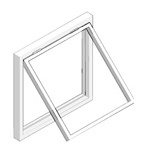 If it opens to the outside, rain will not get in since the hinge is on the top edge of the sash. It is also a secure option, best suited for when the width of the window is greater than the height.
Bottom hung / Hopper

These are most common in cellars where rain splashes may dirty the outside of this window, which can be easily cleaned since it open inwards.
Centre hinge / Pivot

This type of casement window allows for more airflow in a restricted space, as it will not swing wide open but will swing from the middle instead.
Tilt & turn: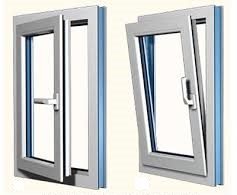 If the interior design of your home leans more towards modern than traditional, you may be more likely to opt for this style of windows. These versatile sashes have a hinge to one side and usually a hinge on the bottom side. Each sash is operated by a different angle of the handle. With the handle in a certain position the window will open like a side hung casement window. If you put the handle in a different position it will open like a bottom hung casement style window. This style of window is ideal for those who want variety. You can enjoy lots of airflow when wide open, and when opened from the top you still get some air circulation. You will also gain security for roaming kids, pets and protection from possible intruders.
Sash windows: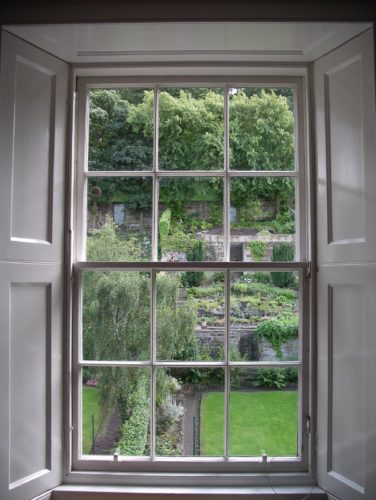 In contrast to casement windows which open via a hinge, sash windows operate through a sliding mechanism, either vertically or horizontally. The vertical sliding types of sash windows can be either double or single hung.
Single hung sash windows tend to be mobile on the bottom sash, and will slide upwards to enable airflow through the lower half of the window. These tend to be cheaper than double hung windows since they only have one moving part.
Double hung sash windows on the other hand allow airflow from either the top, bottom or both halves of the window, since both sashes are mobile and can be adjusted according to your needs. This is perfect for keeping small children or pets from falling through the bottom half of the window by allowing you to open it from either side at will.
Bow & bay windows: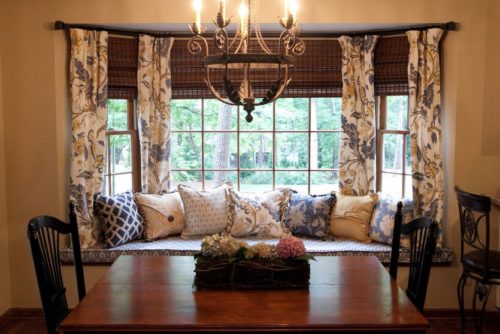 The grandest and most expensive of all window styles, bow and bay windows are usually comprised of multiple panels. These panels centre around an outwardly facing indentation in your wall. Bow windows have 3 to 5 window panes with a smaller angle at each hinge, usually 10 or 15 degrees. Bay windows, on the other hand, are comprised of 3 window panes at 25 or 45 degree angles. This configuration of panes allows for extra space, light and ventilation for the room they are placed in. You can decide whether you would like casement, sash or fixed windows in your bay or bow window. For an extensive overview of bay windows, you can read our dedicated bay window article.
Fixed windows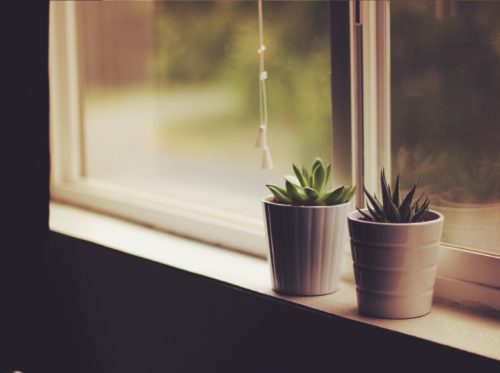 Spaces in need of natural light will greatly benefit from a fixed window. Fixed windows avoid draughts and degradation more than windows with openings. You can choose from more glazing options since thicker glass will be held securely at all times. The enormous choice of size and shape is a great benefit of this window style. You can even buy pre-made stained glass that can afford colourful lighting as well as being very pleasing to look at.
What are the benefits of each style?
Window Style
Benefits
Drawbacks
Best suited to...
Casement

Great for ventilation
An opening on the big outdoors
Airtight

Security risk for pets or small children

Second floor bedrooms or kitchens with lots of space
Tilt & turn

Extra secure
Save space
Airtight

Not as much ventilation as casement

Bedrooms, spaces with restricted space
Sash

Ventilation
Flexibility
Space-saving

Extra tight spaces, bedrooms
Bow or bay

Gorgeous
Lots of light
Extra interior space

Living rooms and master bedrooms
Fixed

Light in hard-to-reach spaces
Infinite decorative possibilities

No ventilation
Harder to clean

Dim, hard-to-reach spaces, especially above door jambs
Get up to 40% off on your windows
With so many window styles and types to choose from, making the right decision for your household can seem like a gargantuan task. Suppliers and installers will price their products differently, and some specialise in certain materials or window styles. For this reason, comparing window suppliers is a very important step in the process of getting new windows. We can help you out when you enter some basic information, and within 2 days you will get up to 4 quotes from local certified suppliers. These free and no-obligation quotations will allow you to make the best possible decision according to your needs.