Save up to 40% in 1 minute
uPVC Windows
How much will new uPVC windows and doors cost you? What makes them so popular in the UK and Europe? Are they the right choice for your home? Read on for this, and more.
How much do uPVC windows cost?
Are uPVC windows the right choice for you? Your budget is very important. Before buying new uPVC windows, it is very important to get a general idea of how much you will be paying.
Finding accurate prices for uPVC windows online can be tricky, but we have gathered some useful information from various sources. This will allow you to make an informed choice.
This table contains an overview of average prices people pay for individual uPVC windows. Keep in mind that these prices can vary greatly depending on a number of factors.
Individual uPVC Window Prices (incl. VAT)

Dimensions
(mm)
Casement uPVC Window
Sash uPVC Window
600 x 900
£290
£580
1200 x 1200
£375
£720
1200 x 1800
£540
£935
How much might you pay for new uPVC windows for your whole house? This table will give you an idea:
Cost of uPVC Windows (materials + installation)

Type of home
Number of Bedrooms
Windows needed
Expected cost of Casement style uPVC Windows
Expected cost of Sash style uPVC Windows
Flat
2
4 windows
£1,450 - £1,700
£2,400 - £3,200
Terraced
2
5 windows
£1,800 - £2,250
£3,000 - £4,350
Semi-detached
2
7 windows
£2,500 - £2,800
£3,700 - £5,200
Semi-detached
3
9 windows
£3,200 - £3,500
£4,400 - £6,600
Detached
3
12 windows
£4,200 - £4,700
£6,200 - £7,550
Detached
4
15 windows
£5,300 - £5,800
£7,200 - £9,400
Want more pricing information? Read our comprehensive window price guide here.
To learn more about the difference between casement and sash windows, read these articles:
There are multiple factors that affect the price of a uPVC window. This includes the colour and design you choose, additional security measures, the number of window openers you have and the number of windows you are having installed. The company you choose to carry out the work will also have a huge effect on the final cost of the job.

Find the right company for the job
There are many factors that affect the price of new uPVC windows, so the range of quotes you will receive can be quite large. This is why it's good for you to get as many quotes as possible to get an idea of what a fair price is. Request quotes, compare up to 4 different companies and select the one that suits you best.
Within 48 hours you will be contacted and will get up to 4 no-obligation quotes. Compare a variety of quotes because it is a fantastic starting point to find the perfect company for your new windows. Plus, you will save up to 40% off the overall costs of the project.
What are uPVC windows?
uPVC windows are the most cost-effective window material – they look great, last long and are pretty cheap. Plus, they are low maintenance windows. uPVC windows are made by cutting and joining pieces of plastic to accommodate the shape of the window.
uPVC stands for Unplasticized Polyvinyl Chloride and is preferred to PVC when manufacturing windows. This is because this material does not decompose and is more durable in harsh weather conditions. When you get in touch with window companies, they may use the term PVC windows but they will almost always be referring to uPVC.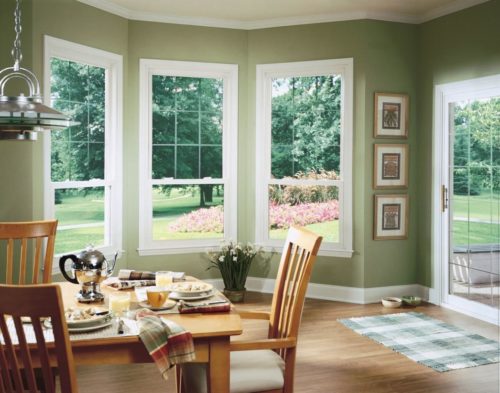 Elegant appearance
uPVC windows used to have a bad reputation for looking a bit tacky. This is no longer the case! Nowadays, they have a very modern and sleek appearance, plus they are available in many colours and designs. You can choose coloured uPVC windows that look a lot like wood but are not as expensive as wooden windows.
In addition to their polished appearance, they come with a built-in lock system and when installed correctly, offer a high level of security. As the cheapest option, uPVC windows made to measure may add even more aesthetic appeal to your home without costing you an arm and a leg! They give you an extra bit of leeway when deciding what style of window you want since they are an affordable option.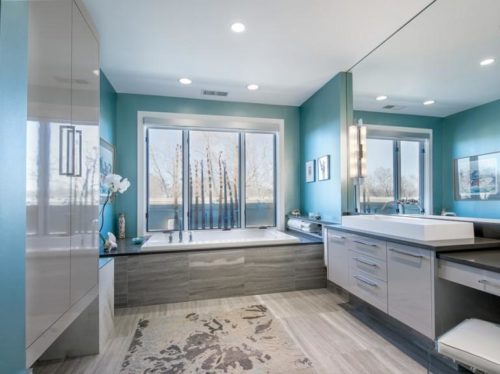 Quality insulation
You'll be happy to know that uPVC windows and doors are also some of the cheapest options on the market. Especially considering how well they insulate the home! So on top of being affordable, they keep you warm. This is especially true for modern, top-of-the-line uPVC windows which conform with environmental laws.
Unlike alternatives such as wooden windows, uPVC windows do not develop gaps over time. They remain the same size and shape, especially in temperate climates such as in the UK. This means that your house loses no heat – if your windows are draughty or old you will save money on your heating bill!
Durability
There are almost no maintenance requirements associated with uPVC windows. This is because they are extremely resistant to both pollution and the weather. The plastic lasts a lot longer than other window materials.
uPVC is tough on impact and does not flake, rot or decompose. As such, uPVC windows are extremely durable resulting in less effort for you to maintain them. Plus, they are environmentally friendly since they can be recycled. This means that this window material will give you the biggest bang for your buck in the long run!

Are uPVC windows the right choice for you?
uPVC Windows
Pros
Cons
Requires nearly no maintenance
Degrades more quickly than wood
An affordable option for any home
Does not suit period homes
Can be made to mimic wood
Cannot be easily painted
uPVC also does not transfer heat well - saving energy
Compare quotes and save 40% on the cost of uPVC windows
As I am sure you are aware, it is in your best interests to do as much research as possible. This includes looking for a number of quote requests to get a general idea of the price you can expect to pay.
Submit a quote request, and you will be contacted by up to 4 local window companies who will provide quotes on the required job. You will make an educated decision as to whether you are being offered a reasonable price. Plus, it is always a good idea to talk with friends or family who have recently bought uPVC windows and asking what they paid.